West Ham United have called an emergency meeting after several pitch invasions and crowd protests interrupted the club's 3-0 defeat to Burnley at the London Stadium on Saturday.
After a goalless first half, Burnley took the lead through Ashley Barnes in the 66th minute – prompting a number of supporters to invade the pitch and approach West Ham players.
One supporter was thrown to the ground by club captain Mark Noble, who was then restrained by Joe Hart.
Two more fans then encroached the pitch and were led away by Hammers defender James Collins.
Moments later, Chris Wood put Burnley 2-0 up, and the match was interrupted for a second time when another pitch invader grabbed a corner flag and attempted to plant it in the centre of the pitch.
Meanwhile, home fans gathered below the directors' box chanting "sack the board" and "you destroyed our club". Joint-owners David Gold and David Sullivan are understood to have left their seats for their own safety.
Police had to be positioned along the touchline and specifically around the West Ham bench, where more disturbances appeared to take place.
The Hammers then conceded a third following a mistake from Hart, who was then approached by more angry supporters in a third pitch invasion.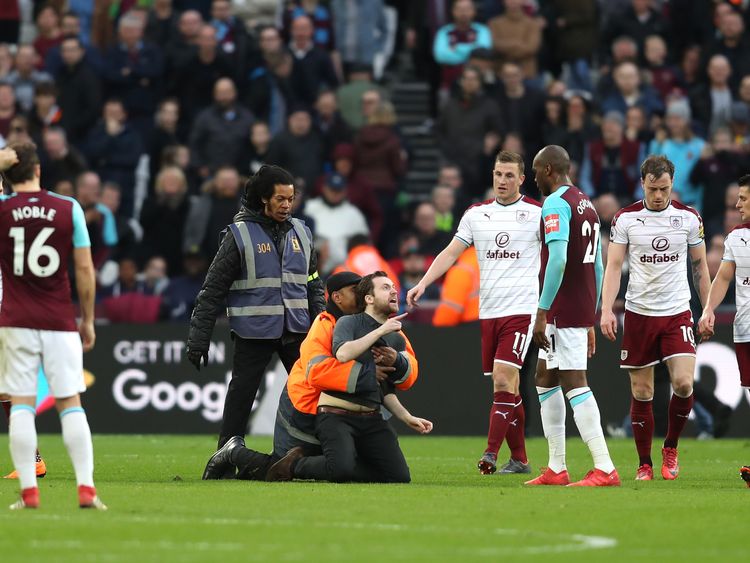 In a statement, the club said it had launched a "full and thorough investigation" and is "committed to taking decisive and appropriate action".
It added: "An emergency meeting has been called with all London Stadium stakeholders. There will be no further comment at this time."
Following the game, West Ham manager David Moyes called on the club's fans to get behind the team.
"We want the supporters behind us, but you can't cross the line and come onto the pitch," Moyes told Sky Sports.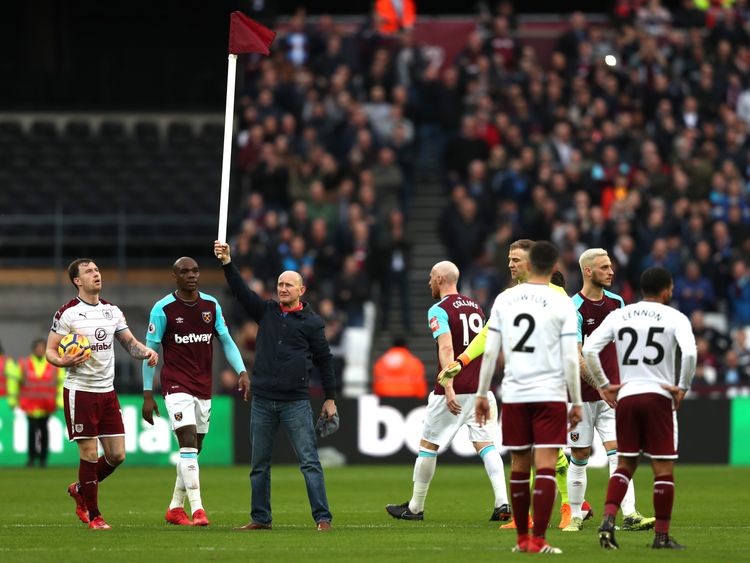 "I don't think I've been at football games in my time where I've seen that. All I'll say to all of them is that we need them. We're fighting for points. We're all in it.
"The players know we did well today for long periods. We didn't do so well for a couple of minutes in the second half. We needed the supporters with us in a different way.
More from UK
"All I ask for is that everybody sticks together and we try to get ourselves enough points to make sure we're a Premier League team (next season)."
Metropolitan Police says it is investigating two reports of assault. No arrests have been made.