byOliver JJ Lane1 Dec 20170
Despite total saturation of the UK news cycle, the mainstream media's "hysterical overdrive" failed Friday to motivate more than a handful of anti-Trump protesters at an organised event outside the U.S. embassy in London.
As the nearby shopping streets of Oxford circus surged with pre-Christmas customers Friday night a small band of activists from Stand Up To Racism gathered outside the United States' Grosvenor Square embassy to wave placards and chant slogans such as "No racist Trump — no state visit" and "Donald Trump stay away — racist, sexist, anti-gay".
The Twitter account of President Donald Trump has been treated as having the greatest importance by the British political and media establishment in the wake of his having retweeted three videos purporting to show acts of Muslim extremist violence.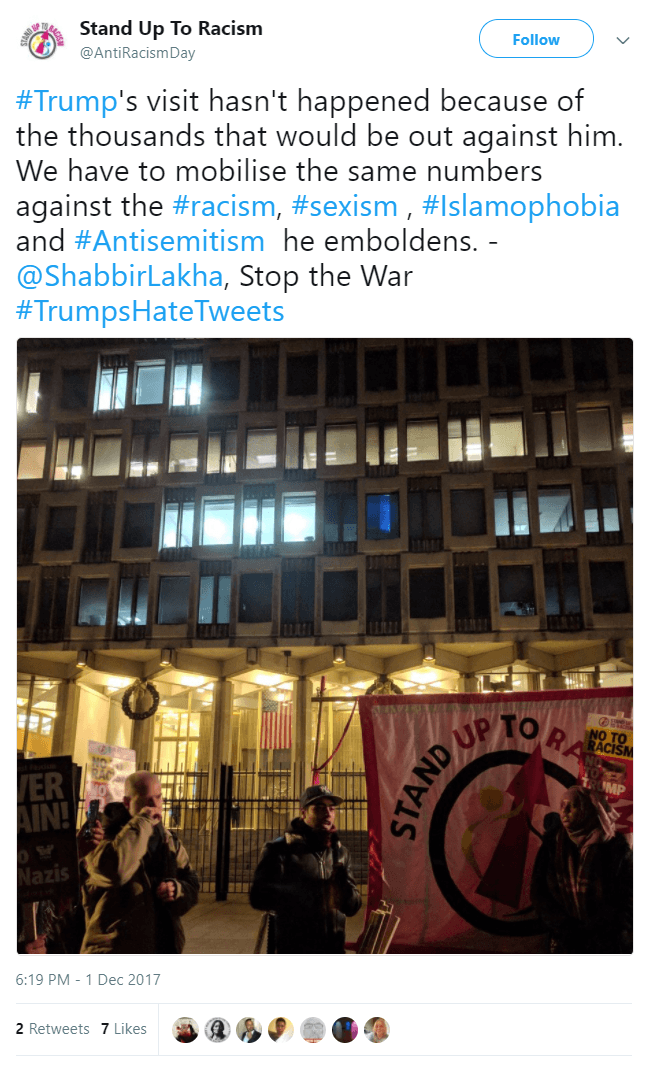 Yet despite the President's social media activity achieving condemnation from the British Prime Minister, Home Secretary, the Archbishop of Canterbury and others, the protest against him and his planned state visit only attracted a handful of supporters and quickly finished.
The success of the protest may reflect the remarks of British activist Tommy Robinson, who told the Breitbart Daily Show Thursday that: "I feel completely embarrassed and I want the American public to understand that the majority of British people do not feel this way; this is an agenda being pushed by the media. We don't feel this way at all."
London's Muslim Mayor Calls for Trump Ban After Retweets, Church of England Demands Apology from President
https://t.co/E7XFAXmhfv

— Breitbart London (@BreitbartLondon) November 30, 2017
Breitbart London editor in chief Raheem Kassam blasted the media's overreaction to the Tweets Thursday evening, describing the BBC's "breathless coverage", and remarked "An emergency debate in Parliament — are we so scared of these fringe organisations these days that we have to have an emergency debate in Parliament, the Archbishop of Canterbury, the Prime Minister, the Home Secretary.
"These are things you do in a time of war, not over a couple of Tweets."
Breitbart London Editor in Chief @RaheemKassam giving the BBC a taste of their own medicine over Trump retweets is MUST WATCH television… see it here https://t.co/nzlmNmiumz

— Breitbart London (@BreitbartLondon) November 30, 2017
Despite this, Stand Up To Racism promised Friday that when President Trump's state visit goes ahead they could increase their mobilisation from Friday's demonstration to "more than a million people" marching on London in protest, reports the Evening Standard.
Speaking to Britain's Sky News from the protest Friday, Stand up to Racism organiser Naima Omar said: "if [President Trump] does come there will be a mass movement against him… my message to Theresa May is to make sure Donald Trump doesn't have a state visit, or a working visit, and if he does people will come out and mobilise against it."
Follow Oliver Lane on Facebook, Twitter:Follow @Oliver_Laneor e-mail: olane[at]breitbart.com

[contf] [contfnew]
[contfnewc] [contfnewc]