Chanting "traitor" and "the pardon has got to go," opponents of Fujimori continued their demonstration outside the Lima clinic where the former leader is currently being treated. Until his release Sunday, Fujimori was serving a 25-year prison sentence for human rights abuses. The son of Japanese immigrants, he served as Peru's leader from 1990 to 2000. Protesters clashed with police Monday as authorities attempted to quell the demonstration with tear gas canisters thrown at the crowd. The jailed former leader was granted a pardon on Christmas Eve by current President Pedro Pablo Kucyznski, who citied Fujimori's failing health as the reason for clemency.Fujimori is a divisive figure in Peru — credited with both stabilizing the country's economic crisis and brutally repressing his opponents. In addition to the two days of street protests, the move was met with condemnation from some lawmakers, who questioned whether there was a political deal behind what Kucyznski's office described as a humanitarian gesture.
3 congressmen to resign
Three congressmen from Kuczynski's party announced their intention to resign following the announcement of the pardon.Congressman Gino Costa posted on his personal Facebook page Monday that he agreed with the "prerogative of the president to grant a humanitarian pardon," but added, "I don't support the way in which it was done. I regret to inform that in the next few days I will formalize my resignation from the Peruvians for Change party."Congressmen Vicente Zeballos and Alberto de Belaunde made similar announcements via social media on Sunday.On Monday, Kuczynski defended his decision to grant the pardon through an announcement broadcast on state TV. He called the move a "complex and difficult one." Fujimori "suffers from a progressive, degenerative and incurable disease," according to a statement from Kuczynski's office. "Prison conditions mean a serious risk to his life, health and integrity."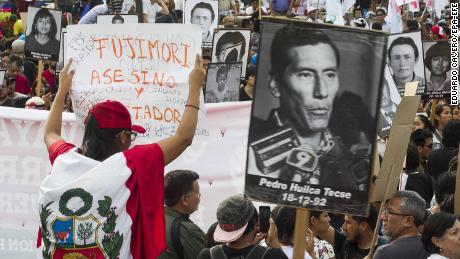 Kuczynski's pardon of Fujimori comes less than a week after the current president survived an impeachment hearing stemming from a corruption scandal that has swept Latin America. Fujimori's son, Kenji Fujimori, was among several lawmakers who abstained from last week's vote to remove Kuczynski from office. Kuczynski survived, in part, because a total of 10 lawmakers from Kenji Fujimori's party abstained, breaking ranks with their own leadership. Members of the party, Popular Force, are known as "Fujimoristas" because of their support of the former president. Local media reports chronicled how the split vote caused friction within the group, including one party spokesman who alleged that those who abstained did so as part as a pact with Kuczynski to pardon Alberto Fujimori.
An authoritarian figure
Fujimori is credited with defeating the Shining Path terrorists who destabilized the country, and his austere economic policies reined in hyperinflation.But the former president had an authoritarian streak and used security forces to repress opponents. In 2009, a special supreme court tribunal sentenced the former president to 25 years in prison for authorizing the operation of a death squad responsible for killing civilians.Jose Miguel Vivanco, executive director for the Americas Division of Human Rights Watch, denounced the pardon and also alluded to a pact. "Instead of reaffirming that in a state with rule of law there is no room for special treatment for anyone, the thought that will persist forever is that his freedom was a crude political negotiation in exchange for (Kuczynski) to remain in power," Vivanco tweeted.
CNN's Mariano Castillo, Silva Fernandez, Kelly McCleary, Rafael Romo, Clara Lopez and Jimena de La Quintana contributed to this report.
Original Article
[contf] [contfnew]
[contfnewc] [contfnewc]
The post Uproar continues in Peru after ex-president is pardoned appeared first on News Wire Now.