Quentin Tarantino has called a car crash involving Uma Thurman during the shooting of Kill Bill "one of the biggest regrets of my life".
The acclaimed director has responded to a New York Times column in which journalist Maureen Dowd interviews Thurman regarding her alleged sex attack at the hands of Harvey Weinstein.
In the interview, the journalist also quotes Thurman as saying she suffered a traumatising car crash while shooting Tarantino's Kill Bill – something which she claims the director "persuaded" her to do.
In an interview with Deadline on Monday, Tarantino has responded to the opinion piece, criticising columnist Maureen Dowd.
"I knew that the piece was happening," he said. "Uma and I had talked about it, for a long period of time, deciding how she was going to do it."
The director found the footage himself, going "through storage facilities and pulling out boxes", and was "happy" to give to her 15 years later.
"The thing is, Uma had people she wanted to indict, for that cover-up," Tarantino explained.
"Part of my job on the piece was to do an interview with Maureen Dowd, and back up Uma's claims. And we never hooked up. Me and Dowd never hooked up."
The Kill Bill filmmaker claims the people Thurman really wanted to put on a spotlight "lawyered up", which made it impossible for Dowd to mention them in the piece.
"I ended up taking the hit and taking the heat," he said.
Thurman has herself posted the video of the car crash on social media, in a post clarifying she does not believe Tarantino had withheld it maliciously and they were now on good terms.
In the footage she can be seen struggling to control the convertible Karmann Ghia before crashing into a palm tree and hitting her head on the passenger seat.
She is seen holding the side of her head before slumping backwards motionless, then breathing heavily and rolling her head as a crew member reaches into the car and checks her pulse.
Thurman called the circumstances "negligent to the point of criminality", blaming "the notorious Harvey Weinstein", who was the producer, and raging against her agents at Creative Artists Agency (CAA).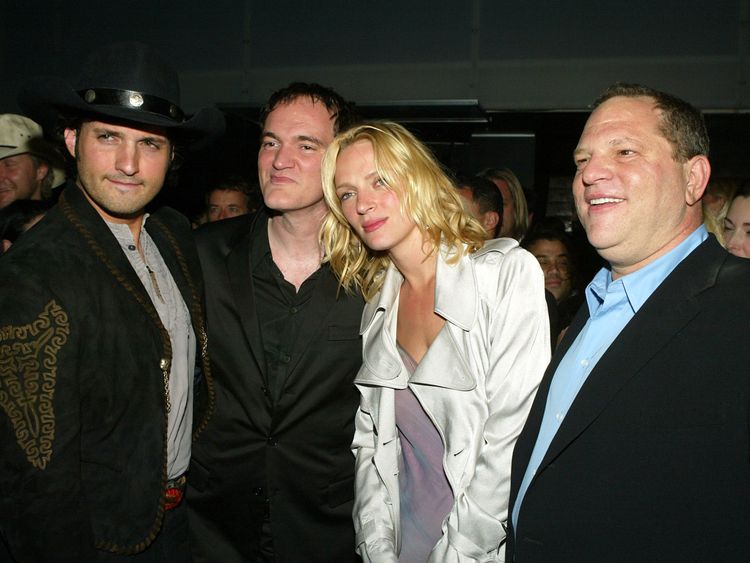 The video release comes just days after she claimed she was sexually attacked by Weinstein in London's Savoy Hotel.
Weinstein has acknowledged making "an awkward pass" 25 years ago at Thurman after "misreading her signals" but a spokesman said he "immediately apologised".
His spokesman said her claims of physical assault are "untrue" and Weinstein is "saddened and puzzled" why his "colleague and friend" has made these allegations now.
He is considering legal action, his lawyer said.
As for Tarantino, he says "no one really knows what caused the crash", and that "she has her suspicions and I have mine".
The director claims he safe-tested the road but, when Thurman did it, she drove the reserve way.
"That is exactly what happened," he said.
"I thought, a straight road is a straight road and I didn't think I needed to run the road again to make sure there wasn't any difference, going in the opposite direction.
More from Harvey Weinstein
"That is one of the biggest regrets of my life. As a director, you learn things and sometimes you learn them through horrendous mistakes.
"That was one of my most horrendous mistakes, that I didn't take the time to run the road, one more time, just to see what I would see."
[contf] [contfnew]
[contfnewc] [contfnewc]