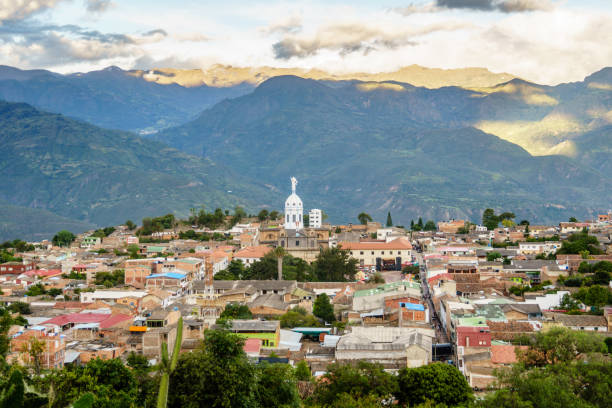 Despite its chequered past, Colombia is emerging from the shadows with serious pace and promise.
Medellin, previously the world's most dangerous city, is becoming a centre for innovation and a haven for digital nomads.
6 things you need to know before you visit China
San Gil is an adventure tourism hotspot, with canyoning, paragliding and white water rafting on offer.
Cartagena has the laid back tourist vibes of southern Spain.
And all of this is tempered with a fascinating – if dark – history, marred by drug wars, drug lords and violence that's given ever more attention due to the popularity of shows like Narcos and a number of well-written biographies of Pablo Escobar.
Here are six things you need to know before you go to Colombia.
You will need to provide proof of onward travel
UK citizens are able to stay in Colombia for 90 days visa-free, but be prepared to show proof of your onward travel.
That is, you need to have a flight, bus or boat booked out of the country before you are allowed to enter.
Airlines can refuse to let you board otherwise.
There are all kinds of climates to deal with
Colombia is a big place, and with that comes a whole host of packing issues.
You've got the Caribbean coast in the north, the Amazon jungle in the far south, the perpetual spring of Medellin and the cooler climes of Bogota.
And you'll probably be hitting all those spots along the way.
Colombia's answer to Machu Picchu is the Lost City – and it's awesome
You've probably heard of the Inca Trail: a tough four-day hike through Peruvian mountains, culminating in sunrise at Machu Picchu.
But Colombia offers something just as cool: La Ciudad Perdida, or the Lost City.
Located in the Sierra Nevada mountains in the country's north, the city is believed to be even older than Machu Picchu.
Paintballing in Pablo Escobar's ex-mansion is a thing (but you probably shouldn't do it)
Escobar's legacy is of great interest to tourists, and understandably so – there is a certain allure to his ill-gotten infamy.
This has gone a bit far in some cases, though: his property just outside of Medellin has been turned into a somewhat tasteless tourist attraction, and yep, there is paint balling.
However, before you load up your (fake) guns, it's worth thinking about whether you want to contribute your tourist dollars to an estate that caused thousands of deaths over two decades – and whether it's respectful to those victims to essentially party on their grave.
Your choice, though.
The food is delicious but may give you a heart attack
Colombia has some really good eating, but be warned that most of it involves vast quantities of oil and a deep fat fryer.
Think cheesy, crunchy, deliciousness.
Oh, and avocados cost about 25p each.
It's safer than you think
Of course, no country is totally safe.
But Colombia suffers from an ongoing reputation largely based on the drug violence of the 1980s – more than three decades ago.
Pablo Escobar was killed in 1993.
FARC (the communist guerrilla group) finalised a long sought-after peace accord in 2017, and have since become a political party.
Though petty theft remains a problem in the cities, and of course it pays to know which neighbourhoods are notorious, safety concerns definitely shouldn't prevent a visit if you stick to the tourist areas.
MORE: Tindersurfing is great – if you've got the privilege of being male
MORE: 7 things you need to know before you go to India
MORE: 6 things to know before travelling to Indonesia
[contf] [contfnew]
[contfnewc] [contfnewc]