Donald Trump has signed a memorandum recommending a ban on bump stocks, like those used in the Las Vegas massacre.
The White House has also announced age restrictions for buying AR-15 rifles are "on the table".
The President made the announcement during a ceremony which recognised the bravery of America's public safety officers, including some of those who have responded to mass shootings.
Bump stocks turn semi-automatic weapons into an automatics and were used by gunman Stephen Paddock, who opened fire on a Las Vegas concert in October, killing 58 people and injuring hundreds more.
Mr Trump said: "School safety is a top priority for my administration.
"This includes implementing common-sense security measures and addressing mental health issues, including better coordination between federal and state law enforcement to take swift action when there are warning signs.
"In addition, after the deadly shooting in Las Vegas, I directed (the) Attorney General to clarify whether certain bump stock devices like the one used in Las Vegas, are illegal under current law.
"Just a few moments ago, I signed a memorandum directing the attorney general to propose regulations to ban all devices that turn legal weapons into machine guns."
He added he wanted to moved past "cliches and tired debates" to bring in security measure that will "actually work".
Mr Trump said the regulations would be finalised "very soon".
:: Gun owners destroy rifles after Florida massacre as #OneLess campaign goes viral
A Justice Department spokeswoman said it had "acted quickly to move through the rulemaking process".
In the memo, Mr Trump said he asked his administration to review the regulation of bump stocks after the Las Vegas shooting. Congress has yet to pass any legislation on gun modifications.
It adds that he wants the Justice Department to dedicate all available resources to review previous comments and "propose for notice and comment a rule banning all devices that turn legal weapons into machine guns."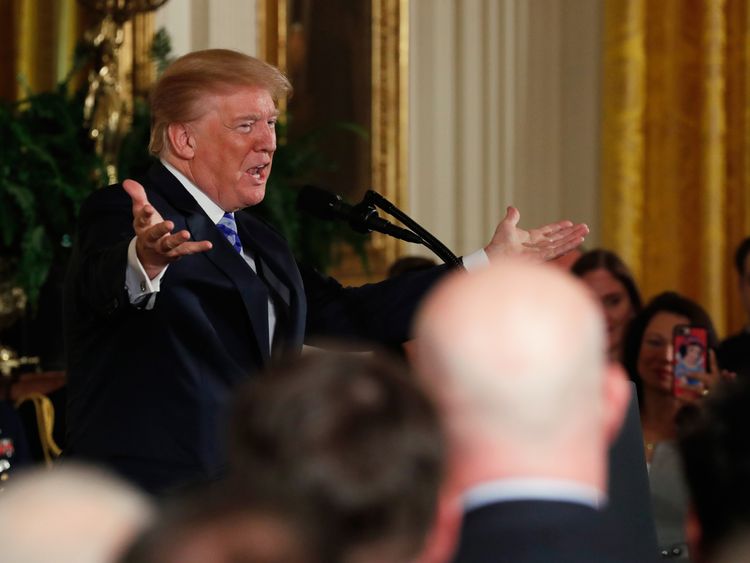 A bump stock replaces the rifle's standard stock, allowing the weapon to move back and forth more rapidly.
According to the New York Times, the National Rifle Association (NRA) has previously backed further regulations on bump stocks.
The memorandum adds: "Although I desire swift and decisive action, I remain committed to the rule of law and to the procedures the law prescribes.
"Doing this the right way will ensure that the resulting regulation is workable and effective and leaves no loopholes for criminals to exploit. I would ask that you keep me regularly apprised of your progress."
:: Pictured: 17 victims gunned down in school massacre
On Tuesday, White House press secretary Sarah Huckabee Sanders said an age restriction for buying AR-15 rifles is "on the table for us to discuss".
The current age limit for buying an AR-15 is 18, but it's 21 to buy a handgun.
The White House has said Mr Trump will meet with students, teachers, state and local officials to discuss ways of improving school safety and addressing gun violence.
Nikolas Cruz has been charged with 17 counts of murder over the shooting at his former high school in Florida.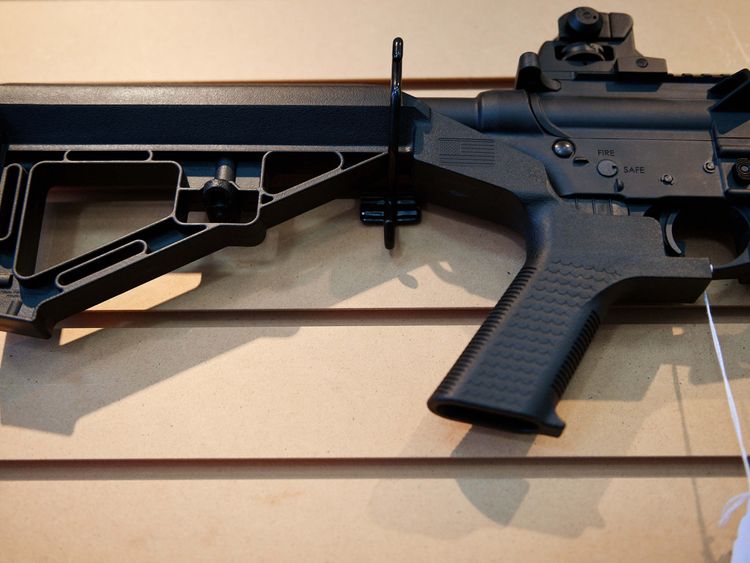 Cruz made his second appearance in court earlier this week, and he is understood to be ready to plead guilty, as long as the death penalty is not considered.
The mass shooting is one in a long history of brutal massacres in America's schools, but has moved people to push again for tighter gun control.
According to a Quinnipac University poll voters support stricter gun laws by 66% to 31%.
Students from the Florida school affected and those around them have been marching to call for greater regulation in the last few days.
More from Las Vegas attack
But, just days after the shooting, the Florida House of Representatives voted down a motion to take up a bill that would ban assault rifles, by 36-71, effectively killing the measure for this session.
On Monday, the White House said Mr Trump would be supportive of proposals to improve background checks before gun purchases.
[contf] [contfnew]
[contfnewc] [contfnewc]