New York is getting ready to celebrate the 20th anniversary of National Tartan Day with the NYC Tartan Day Parade.
Taking place on Saturday, 7 April, the National Tartan Day New York Committee has announced that the official beer of the Tartan Day Parade Events will be Scotland's oldest working brewery, Belhaven.
This year's event marks 20 years since the US Senate declared 6 April to be National Tartan Day to recognise the contributions made by Scottish-Americans to the United States.
Pipers at the NYC Tartan Day Parade
In 1999, two pipe bands and a small but enthusiastic group of Scottish Americans marched from the British Consulate to the UN for their first parade. Since then, they have grown to include hundreds of pipers, thousands of marchers and many more thousands cheering from the sidelines.
In 2003 the National Tartan Day New York Committee was formed to organise the parade and co-ordinate all the associated activities which surround the event.
A variety of associated events will take place from 2-10 April this year.
Belhaven will be available at many neighborhood bars throughout the city, with special tasting events lined up at selected venues throughout the week.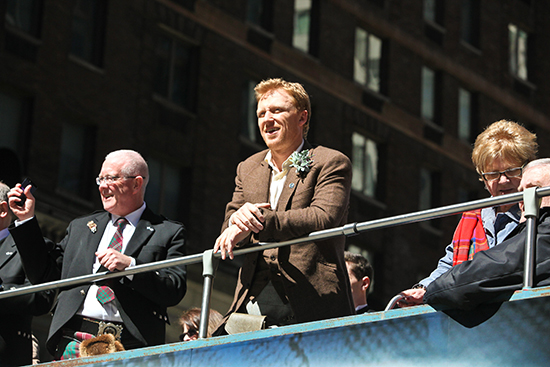 Scots actor Kevin McKidd attending a previous NYC Tartan Day Parade
Immediately following the Parade, the Official Tartan Day Post Parade Party will be held at the renowned BB Kings.
Pipe bands and clans will be joining the parade from throughout the United States and Britain, and the excitement is mounting.
A spokesman said: 'If you are a clan, pipe band or organisation, or a piper or drummer who would like to join the mass band, please register by going to our website. Everyone is invited to watch and cheer us on.
'The parade is now the largest Scottish celebration of its kind in the United States.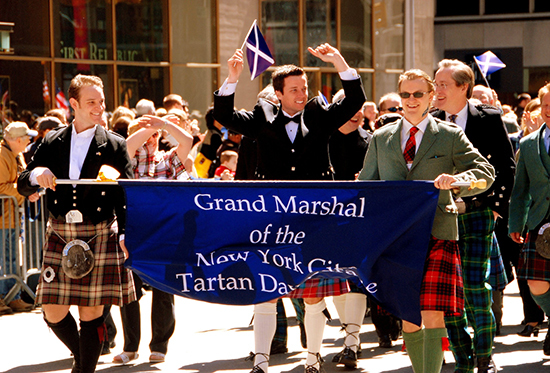 Scots and their achievements in American are celebrated during the NYC Tartan Day Parade
'The streets will be awash in tartan and the sound of the bagpipes from 44th to 55th Street on Sixth Avenue. The parade steps off at 2pm.
'The National Tartan Day New York Committee thanks all the Pipe Bands and individual pipers and drummers who have joined us each year from our first days along a side walk, and then into Central Park – to now our proud place on Sixth Avenue.'
Full event details and announcements can be found by clicking HERE.
READ MORE NEWS FROM SCOTTISH FIELD BY CLICKING HERE.
[contf] [contfnew]
[contfnewc] [contfnewc]