Donald Trump's economic adviser has quit his role in the White House over the president's trade tariffs.
Gary Cohn, viewed as a voice for Wall Street, resigned after battling with the president over his plans to impose hefty steel and aluminium import tariffs.
The 57-year-old, who was a key architect in Mr Trump's tax reforms, is expected to finalise his exit over the next three weeks.
Mr Trump tweeted: "Will be making a decision soon on the appointment of new Chief Economic Advisor. Many people wanting the job – will choose wisely!"
:: Porn star Stormy Daniels sues Donald Trump
Mr Trump has pushed on with his plans for a 25% tariff on steel imports and a 10% levy on aluminium despite apparent internal White House wrangling over the strategy, and pleas from UK Prime Minister Theresa May.
Jean-Claude Juncker also responded to the plans for tariffs by announcing the EU could tax US bourbon, Levi's and Harley-Davidsons.
The resignation is another blow to the Trump administration, where the economy is growing but the markets are volatile.
In a statement, Mr Cohn said: "It has been an honour to serve my country and enact pro-growth economic policies to benefit the American people, in particular the passage of historic tax reform.
"I am grateful to the president for giving me this opportunity and wish him and the administration great success in the future."
:: Donald Trump rejects Theresa May's appeal on steel and aluminium tariffs
He did not attend a press conference with Mr Trump, despite a seat being marked for him.
When asked about the high turnover rate in the White House, Mr Trump said: "Many, many people want every single job… I could take any position in the White House and I'll have a choice of the 10 top people having to do with that position. Everybody wants to be there."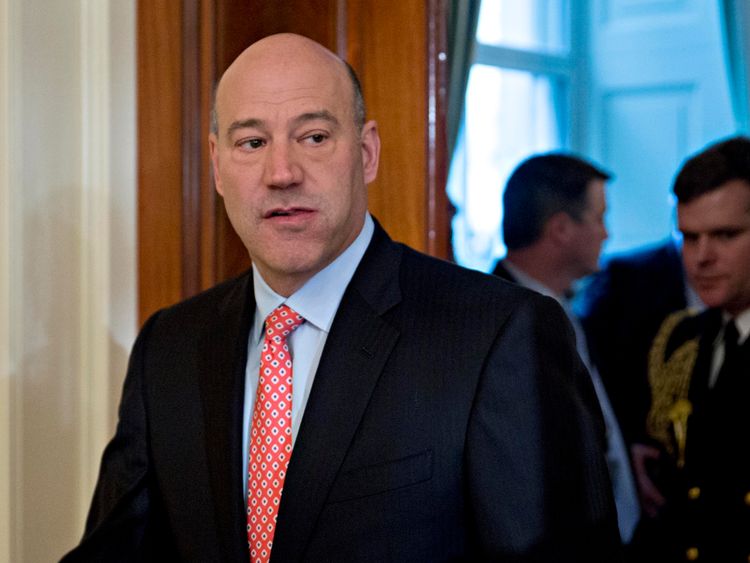 The top contenders for the job are Peter Navarro, a White House adviser, and conservative commentator Larry Kudlow.
The US dollar fell and stock futures dropped by 1% after the news of Democrat Mr Cohn's departure.
More from Donald Trump
Paul Mortimer-Lee, chief market economist at BNP Paribas corporate and investment banking said: "One of the adults in the room has left. The markets will worry that this is a signal that we will definitely go ahead with these tariffs."
Mr Cohn's relationship with the president is understood to have soured after Mr Trump's response to the neo-Nazi clashes in West Virginia in August last year.
[contf] [contfnew]
[contfnewc] [contfnewc]