The Maldives and Seychelles lead the way in luxury development, with 2018 no exception. Debbie Ward looks at top new openings and attractions.
Sharelines
The Conrad Maldives Rangali Island opens the first underwater hotel suite, The Muraka, five metres below sea level. Costing $15 million to build, it will sleep up to nine guests.
The Indian Ocean islands position in the world means they have a global appeal, one being enhanced by a host of developments in 2018.
This year will be an important one for the Maldives, with at least 23 new resorts opening and a new runway at Males Velana International airport. The archipelago ranked China as its biggest international market in the first three months of 2018, with a 17.3% share, far ahead of second-placed Italy, with 9.9%. The UK and Germany both had a 7.8% share, with Russia behind them at 5.8%. In total, arrivals in the first three months of 2018 were up 17%, so a state of emergency imposed after judges were imprisoned under terrorism laws that ended on March 22, does not seem to have put off visitors.
Velana airports new runway, opening late this year on reclaimed land, will be a key development as it can accommodate the Airbus A380, a favourite of the Gulf carriers. A new terminal, opening in 2020, will replace a building designed for one million passengers a year with one for 7.3 million.
Awaiting these new visitors will be a host of new properties. This year has already seen a new Fairmont, the Sirru Fen Fushi, featuring an underwater sculpture park, while the Baglioni brings Italian chic to the islands this autumn. A Hard Rock Hotel opens on October 1, a 20-minute speedboat ride from the airport. Its quirky offerings will include free Fender guitar hire for guests.
The 37-villa Joali Maldives, launching in the fourth quarter of 2018 on Muravandhoo in the Raa Atoll, will feature a series of artworks and installations by acclaimed international artists and guests will have access to butlers and valets.
Atoll do nicely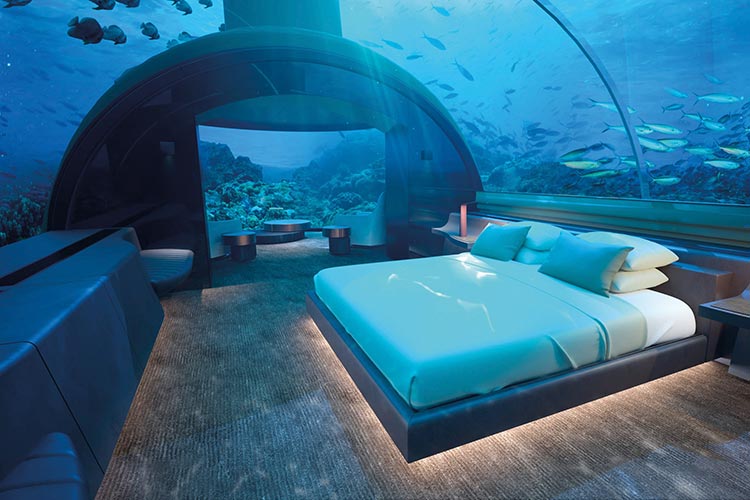 One mould-breaking development will be the Lux North Male Atoll, also opening in October, which dispenses with traditional overwater thatched villas in favour of two-storey penthouses. Another newbie with wow factor will come in November, when Conrad Maldives Rangali Island opens the first underwater hotel suite, The Muraka, five metres below sea level. Costing $15 million to build, it will sleep up to nine guests who can ascend to a living area at sea level via a spiral staircase. The resort already has an underwater restaurant.
A JW Marriott with beach and overwater villas opens in 2019. Early 2019 also brings a Waldorf Astoria with 138 villas and treehouse dining, spanning three islands in the South Male Atoll.
Even more ambitious is the Emboodhoo Lagoon project across nine islands, of which the Hard Rock forms part of phase one. Besides several hotels, there will be a marina and a township, shops, restaurants, bars and entertainment venues.
The Hon. Moosa Zameer, minister of tourism for the Maldives says: "The Maldives is undergoing several major infrastructure developments this year including expansion plans at the Velana International airport and the opening of the Hulhumale Bridge in July. Weve already seen an impressive rise in visitor figures during the last few months, including a 17.5% increase in March from the UK, and these new developments will help to support the increasing demand were seeing for tourism to the Maldives."
BA return to Seychelles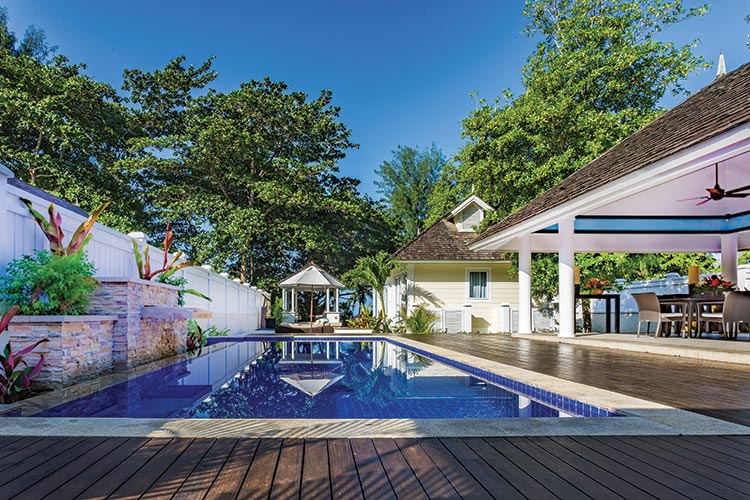 The Seychelles, meanwhile, scored a coup in March with the return of British Airways flights after 14 years, although Air Seychelles axed Paris flights in April ahead of the launch of Air Frances Joon service in May. Joon and Switzerlands Edelweiss Air, which launches flights from Zurich in September, may bring a younger market to the islands. It is a welcome boost for the destination, which last year saw visitor numbers rise 18% to around 360,000 and is aiming for 400,000 in 2018.
The Seychelles saw its second Four Seasons property open in March at Desroches Island, the sole resort on the 4 mile-long coral island famous for the Desroches Drop, a sheer underwater cliff that is among the worlds most famous dive destinations. It is a 35-minute flight from Mahe and has 71 bungalows, villas and suites. An organic spa and Discovery Centre, with exhibits about local flora and fauna, are among highlights, along with an activities programme that includes fishing and diving. Guests will also be able to pick up deli picnics ready for island exploration.
Club Med class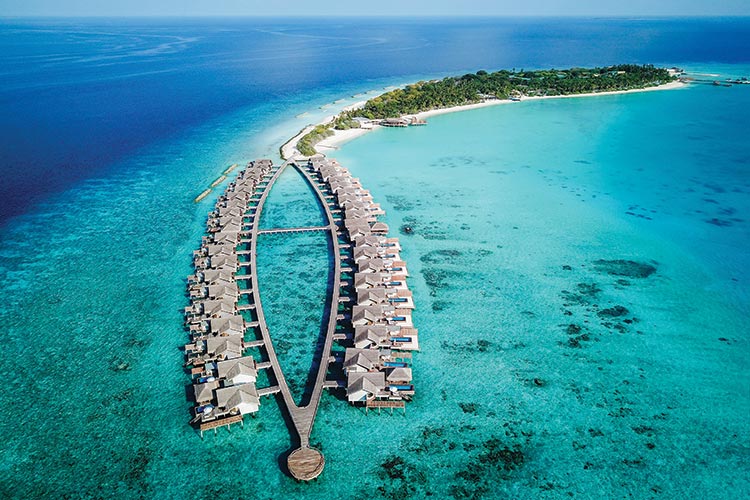 Club Med is planning its first Seychelles property for 2020. It will take over management of the current 87-room Beachcomber Seychelles Sainte Anne Resort and Spa hotel to create a Club Med 5 Trident Exclusive Collection Resort of around 300 rooms.
At Banyan Tree Seychelles, this year a quarter of villas have been upgraded and a pool bar added along with a new immersive outdoor dining experience, Moutya, that involves guests at live cooking stations helping create meals with resort-grown produce. Theres also an intimate new Indian dining experience at the Wetlands Centre, named Thirty Three 1/3 – after sometime-resident George Harrisons solo album.
Hilton Seychelles Labriz Resort & Spa on Silhouette Island is claiming the Indian Oceans first hotel museum. Grann Kaz, set in a restored plantation house, tells the story of the island from the 12th century. Highlights include a map from 1519 when explorer Vasco de Gama positioned the Seychelles for the first time and the original journals from 1770 documenting the discovery of Silhouette Island.
Environmental issues are also to the fore in the Seychelles with resorts making efforts to reduce plastic; Hilton, for instance, this year started bottling its own water in reusable glass.
DoubleTree Resort & Spa by Hilton Hotel Seychelles Allamanda has meanwhile launched a Coral Reef Restoration Programme. Guests can get involved in helping at the resorts land and sea-based coral nurseries.
It seems that Indian Ocean resorts now have an eye on the future well beyond 2018.
Star turn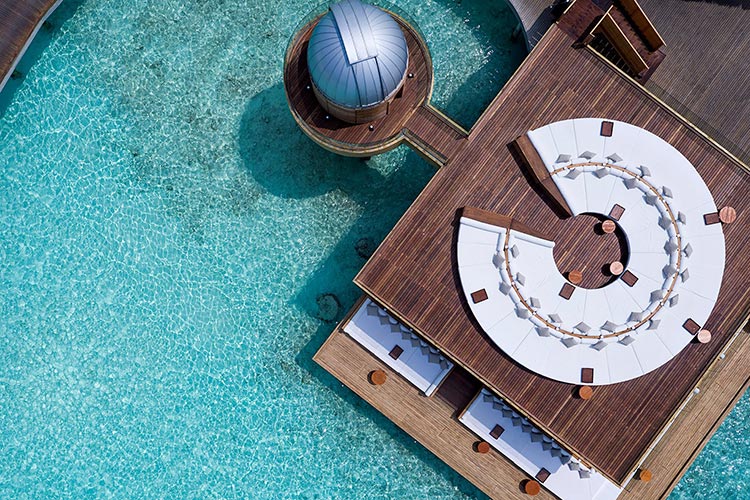 The regions unique starry skies prompted Anantara Kihavah Maldives Villas to launch The Observatory at the end of last year. New Sky Guru Ali Shameem tells us more…
"The Maldives is a perfect place in the world for star-gazing due to very little light pollution and vast open sea areas, in addition to being so close to the equator. It creates the perfect opportunity to spot planets and stars not visible in other parts of the world.
We thought it was an exciting opportunity to offer our guests an out-of-this-world experience during their stay with us.
Very few other properties hold telescopes and no one else has an in-house Sky Guru. In fact, we now hold the most powerful telescope in the Maldives at The Observatory [a research-grade 16" Meade LX200], located in our overwater dining complex – Sea.Fire.Salt.Sky – on the roof deck of the Sky bar.
Most of the time we have clear skies. This obviously depends on the season but your chances of getting a clear sky during a stay would definitely be over 80%.
Im always in house as Im also front office manager, but for a guided Sky Guru experience we recommend guests make reservations to avoid disappointment as its already very popular."