Western Australias Coral Coast is a hotspot for wow-factor marine experiences, unique natural landscapes and sizzling seafood
Win a £1,000 marketing fund to help you sell Western Australia with Gold Medal!
Western Australias Coral Coast has a wealth of landscapes for visitors to explore, from pristine Indian Ocean beaches and waters brimming with marine life to awe-inspiring national parks. Just a one-and-a-half-hour flight north from Perth, Ningaloo Reef is a Unesco World Heritage Site and the only place in Australia where swimmers, snorkellers and divers will be joined by manta rays and gentle whale sharks, the largest fish in the sea. Plus between July and November they can look out for humpback whales. For visitors that would rather observe from the waters surface, theres a selection of Coral Coast boat trips to choose from.
At Monkey Mia, south of Ningaloo Reef, guests can paddle along the shoreline and make friends with the wild dolphins that first came to this spot 40 years ago when Aussie fishermen shared their catch with the local pods. Also in Shark Bay, travellers can explore Dirk Hartog, Western Australias largest island, and take in Shell Beach, one of only two beaches in the world consisting of billions of tiny shells.
Coveted coast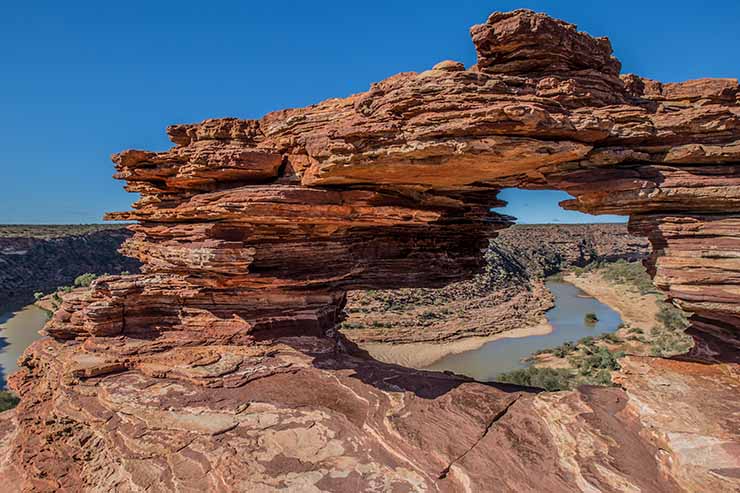 Kalbarri national park, around halfway between Perth and Ningaloo Reef, is a playground for adventurers. Think bush walking, gorge hiking and canoeing, to name a few. The Murchison River gorges, which have formed over millions of years from sandstone cliffs, the red-rock frame of Natures Window, and lookouts such as The Loop, Z Bend, Hawkes Head and Ross Graham are some of Kalbarris highlights. If visiting between August and October, explorers will be rewarded with the sights and smells of more than 1,100 varieties of Western Australian wildflowers too.
If visitors choose to be based in Perth for the majority of their trip, Nambung national park and its highlight attraction the Pinnacles make a cool choice for a day trip. The thousands of ancient limestone columns rise from the desert, with some as tall as seven metres, and are best explored on foot.
Cervantes is the gateway to the Pinnacles, marking the southern end of the Coral Coast. Its known for natural landscapes and fresh seafood, so a visit to the Lobster Shack to taste western rock lobster is a must before departing the town.
Book Western Australia with Gold Medal now!
Gold Medals Apollo Motorhome Holiday: Perth to Coral Coast itinerary includes:
An Apollo Euro Tourer – suggested stops at Perth, Geraldton, Exmouth, Coral Bay, Shark Bay and Kalbarri
Opportunity to see the Pinnacles and Cape Range national park
Options to taste seafood in Geraldton, see sunsets and coastal gorges in Kalbarri and visit Pink Lake
Chance to swim with whale sharks on Ningaloo Reef, snorkel in Coral Bay and meet dolphins at Monkey Mia
Cathay Pacific flights from Heathrow
Prices for this 10-night, self-catering trip start from £899pp, whichRead More – Source
[contf] [contfnew]
[contfnewc] [contfnewc]