After an officer was cleared of criminal charges for shooting unarmed motorist Terrence Sterling, investigators determined that he did not follow protocol and should be fired. The decision could affect a pending lawsuit against Washington, DC.
A Metropolitan Police Department (MPD) Internal Review Board found that Officer Brian Trainer, 27, was "unjustified" when he shot Sterling last September, Police Chief Peter Newsham told Fox News Tuesday.
The MPD Use of Force Review Board determined that Trainer violated department rules and recommended that he should be terminated from the force. The board's investigation does not determine if Trainer should be held criminally responsible.
Read more
On September 11, 2016, Terrence Sterling, an H-VAC technician from Fort Washington, Maryland, was reported to be "driving recklessly," when two officers attempted to pull him over, according to a police report.
After the rider got away, another officer saw a motorcycle matching his description. When the officer exited his vehicle to stop the rider, the MPD claims that Sterling "intentionally drove into the passenger door." Trainer then fired his weapon several times, striking Sterling once in the neck and a second time in the back.
Controversy surrounded the case, as there was no video evidence to corroborate Trainer's account since he did not turn on his body camera until after the shooting.
The bodycam footage released by police shows Trainer and his partner giving CPR to Sterling, who was bleeding out on the street.
"Keep breathing! Look at me!" Trainer can be heard saying repeatedly while trying to give Sterling CPR. Sterling was later transported to a hospital where he was pronounced dead. Neither officer was charged in the incident.
In August, federal investigators cleared Trainer of all criminal charges after the US Attorney's Office for DC said there was not enough evidence to show he was using more force than was necessary or acting in self-defense.
After prosecutors announced their decision not to file criminal charges, DC Mayor Muriel Bowser called for the officer's resignation.
Four days after Sterling's death, Bowser implemented a department-wide procedure, requiring officers to contact dispatch and confirm that their cameras were recording whenever they responded to a call.
Read more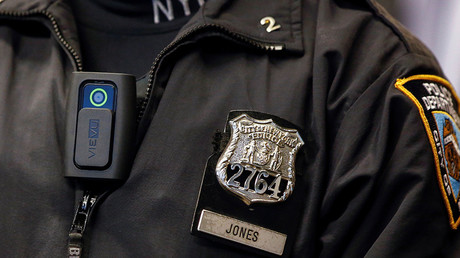 Sterling's family filed a $50 million wrongful-death lawsuit against the city and the MPD in December, arguing that Sterling did not pose a threat to the officer.
The Sterling family's attorney, Jason Downs, thanked the review board for their decision, but questioned whether the decision would impact the lawsuit against the city.
"The Use of Force Review Board's finding is in line with what we have said from the beginning of this case – Brian Trainer unlawfully executed Terrence Sterling and this shooting was completely unjustified," Downs said according to WJLA. "The next question is whether the District of Columbia will continue to incredulously claim, in a court of law, that this shooting was justified."
The District's Attorney General, Karl Racine, did not answer whether the city would agree with the board's decision, which could impact the civil lawsuit Sterling's family filed.
"In cases that involve alleged police misconduct, we work very hard to filter-out those cases where there has been some wrong-doing from others where, you know, frankly, the facts are in dispute," Racine said, according to WUSA. "It's the cases where the facts are very much in dispute that eventually end up getting litigated, probably though out-of-court process… I think a result that's fair for the family and fair for the District is out there to be had."
Trainer has 55 business days to accept the board's decision or challenge it by requesting a hearing. Sources told Fox News that Trainer intends to go through with the hearing process.
[contf] [contfnew]
[contfnewc] [contfnewc]