Police and rail staff who helped victims of the Manchester Arena bombing are to be honoured for their "extraordinary acts of bravery".
The ceremony at Manchester Town Hall on Friday will recognise the efforts of British Transport Police (BTP), Northern Rail and security firm Carlisle Support Services after the terror attack which claimed 22 lives in May.
Among those being awarded are the first officers who arrived on the scene; PC Jessica Bullough, PCSO Mark Renshaw, PCSO Jon Morrey and PCSO Lewis Brown.
PSCO Morrey, who was on duty at the arena on the night of the attack, said he treated his first victim around 40 seconds after the explosion.
He told Sky News: "On the night it was just what needed to be done. People needed help.
"There were lower leg wounds. One man had a knee injury. His wife had an injury to her Achilles heel. There was a little girl about eight years old who needed treatment.
"Most of the people I treated were very calm. I'd like to think I gave them the assurance they needed in a really dire time."
In total, 74 police, rail and security staff members are being honoured at the ceremony for their "extraordinary acts of bravery in the immediate aftermath of the Manchester Arena terrorist attack", BTP said.
:: 'A night of horror': Medics relive night of the Manchester Arena bombing
PCSO Renshaw treated a number of seriously injured people and comforted a little girl who had lost her mother.
PC Bullough, who alerted the BTP control room that a bomb had exploded, performed CPR on a critically injured woman and used makeshift robes to cover people who had died.
PCSO Brown, who was just six weeks into his job, ran from Manchester Victoria station to the scene, providing emergency first aid and supporting survivors.
BTP said many officers arrived on the scene within minutes of the explosion and worked throughout the night, while others helped with the recovery and identification of victims.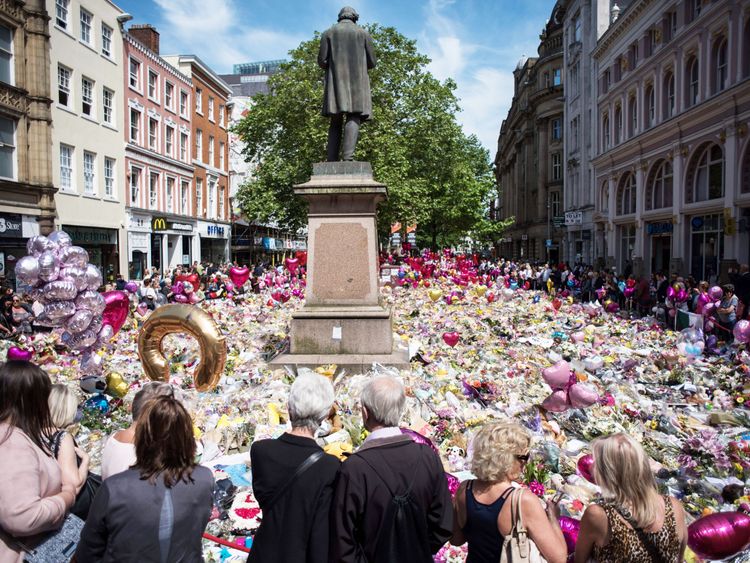 Staff from Northern Rail and Carlisle Support Services provided support by delivering first aid and evacuating casualties.
BTP Chief Constable Paul Crowther said: "For many of us, the night of 22nd May will be a date that will forever be etched in our minds.
More from Manchester bombing
"This ceremony gave us an opportunity to remember those 22 people who lost their lives and all the lives changed that night.
"It also gave us a chance to formally recognise those who ran towards scenes of danger, despite unknown danger to themselves, to help and protect the many innocent people who found themselves caught up in the attack."
[contf] [contfnew]
[contfnewc] [contfnewc]