Forecasters are predicting that this week will be one of the coldest of the winter so far, with snow set to fall in almost every part of the country.
Experts are warning that the cold conditions across the UK could be here for the long haul too – lasting for much of February and even extending into March.
Temperatures are expected to dip to about -11C (12.2F) on Tuesday night in the Scottish Highlands, and it is set to feel bitterly cold across parts of northern England.
If the mercury dips below -13.7C tonight, it would surpass 21 January as the coldest night of the winter so far.
Freezing temperatures have already led to travel disruption in parts of the UK, with snow and ice creating treacherous conditions on the roads.
Wee bit of solo sledging on the dog walk this morning – well, must make hay while the sun shines….
(or, you know, sledge while the snow falls!) pic.twitter.com/Zc8PQXjhnR

— Beth Whiteside #FBPE (@whiteside_beth) February 6, 2018
Leicestershire, Scotland, Northern Ireland and the Isle of Man have experienced heavy snowfall.
SNP councillor Beth Whiteside posted a video showing the freezing conditions in Scotland, as she took advantage of the snow and sledded down the slopes of Piperdam Golf Resort near Dundee.
As the snow starts again A Lady going to work just asked 'What's Ballymena done to get all this crap weather the guy on her radio @coolfm said they had none (Bangor)' Personally I just don't know we're all good people in town 'any answers out there in twitter world ' pic.twitter.com/EO3HK6mwVZ

— Eugene Diamond (@EDiamond136) February 6, 2018
Kent, Essex and Suffolk saw snow arrive on Tuesday, with Cornwall experiencing its first "proper snowfall" in eight years.
Icy conditions during the morning rush hour led to a multiple-vehicle crash on the M5 near Stroud in Gloucestershire, while two lorries became stuck on the A6075 in Nottinghamshire.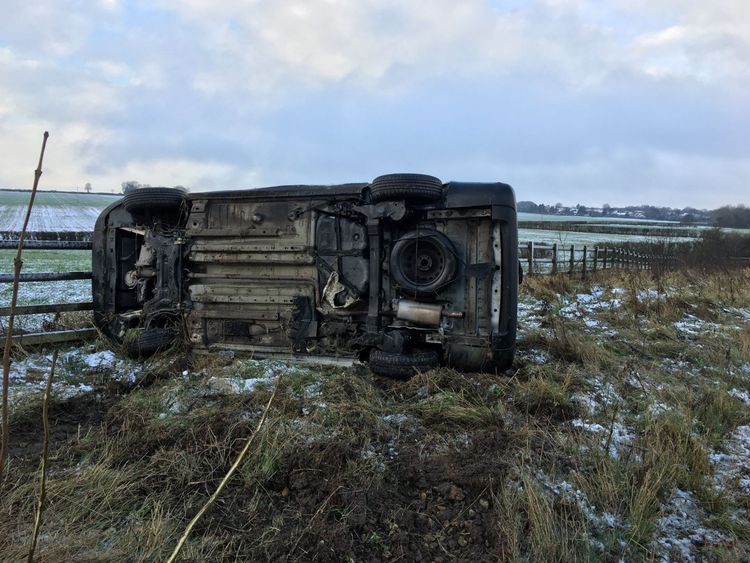 Three yellow "be aware" weather warnings from the Met Office are in place, all warning of snowy and icy conditions late on Tuesday and overnight.
Sleet and snow is expected in parts of eastern England; western areas of the UK will be hit by sleet, snow and hail showers – some of them heavy; and a spell of sleet and snow will continue to move southeast across the UK.
Predictions of bad weather forced British Airways to cancel 70 short-haul flights to and from London's Heathrow Airport on Monday and a further 10 on Tuesday.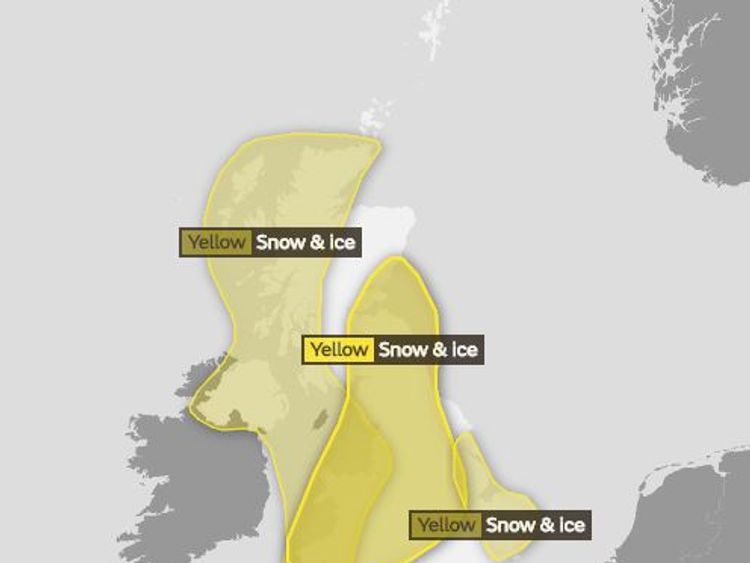 Sky News weather presenter Nazaneen Ghaffar said: "So far this winter we've definitely experienced cold conditions and plenty of snow too. However, our cold spells have generally been short lived, with only a few days at a time.
"This time, we are experiencing a more prolonged spell of cold weather.
"There will be outbreaks of sleet and snow, even at low levels. Any accumulations of snow will lead to icy conditions as well and therefore a travel hazard for many over the next few days."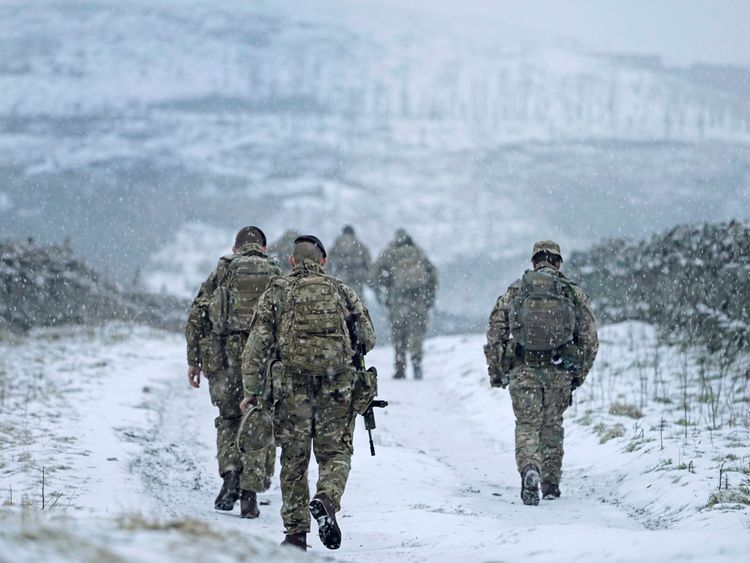 The cold weather will persist until the weekend, with some warnings that Britain could be facing unusually cold conditions for the rest of the month.
More from UK
Alex Burkhill, Met Office forecaster, said: "The cold weather is likely to return as we go towards the weekend.
"Really much of February and perhaps even into March it is going to stay on the cold side, so temperatures generally below average, with further frosts and also the risk of rain, sleet and snow as well."
[contf] [contfnew]
[contfnewc] [contfnewc]