Aftershocks continue to rattle Taiwan after a strong earthquake that killed at least four people and injured more than 200 others.
The powerful 6.4-magnitude tremor struck at 23:50 (15:50 GMT) about 20km (12 miles) off the island's east coast.
Multiple buildings across the city of Hualien have been badly damaged. More than 140 people still remain unaccounted for from one building.
Hualien, a popular tourist hub, is home to about 100,000 people.
Residents in the city of Hualien have been told to stay away from their damaged homes, and about 800 have taken shelter in community buildings because of the aftershocks.
Images from the city showed tilted structures, scattered debris and extensive damage to roads in the area.
The Yunman Cuidi building, which has residential and commercial floors, is tilting to one side after sustaining major damage. About 143 of its residents remain unaccounted for, local media said.
Rescuers on Wednesday morning were still working to reach at least five other people who are thought to be trapped in buildings including two people believed to be stuck inside the Marshal Hotel.
Among the several badly damaged buildings was a hospital, local media said.
"We were still open when [the earthquake] happened," Lin Ching-wen, who operates a restaurant near the hospital told newswire Reuters.
"I grabbed my wife and children and we ran out and tried to rescue people."
Emergency responders, including soldiers, worked through the night, rescuing about 150 people from damaged buildings, but powerful aftershocks have disrupted rescue efforts.
'I wanted to hide under a bed'
by Chang Chunglan, BBC Chinese, Hualien
Earthquakes are not uncommon for residents in Hualien but the 6.4-magnitude quake, one of the strongest in recent years, came as a shock.
According to witnesses, residents were running out of buildings crying and screaming when the earthquake shook the city.
"It is the first time in my life [where I felt like] I wanted to hide under a bed," said 32-year-old Ms Chieh. "Later, my entire family and all my neighbours ran out onto the street."
She added that she felt very scared and found it "unbelievable" that the hotel building near her home was so seriously damaged.
About 40,000 homes are without water, and highways and bridges have been closed.
Offices and schools in the city will remain closed on Wednesday.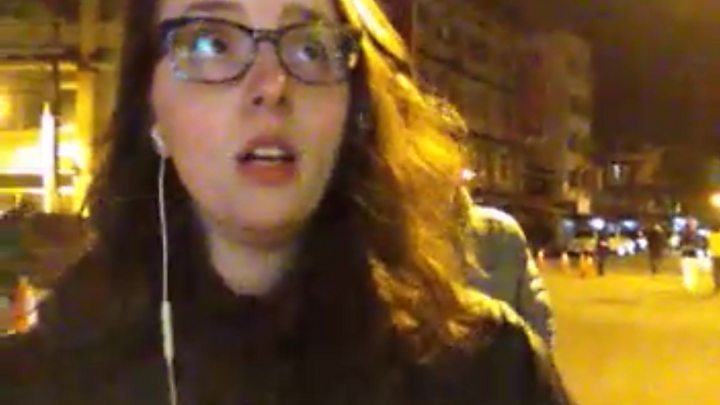 President Tsai Ing-wen was at the scene of the quake on Wednesday morning, where she visited hospitals and relief centres.
In a Facebook statement, Ms Tsai said that the government would help Hualien to the best of their abilities, adding that she hoped "people's lives would return to normal as soon as possible".
People reported feeling the quake in the island's capital, Taipei, more than 160km (100 miles) away.
The earthquake comes exactly two years after a previous quake in the Taiwanese city of Tainan that killed at least 116 people.
Taiwan has been rocked by more than 100 earthquakes so far this month, according to the government. The island sits near a junction of two tectonic plates and is regularly hit by earthquakes.
Taiwan has for all practical purposes been independent since 1950, but China regards it as a rebel region that must be reunited with the mainland.
Are you in the area? Did you witness what happened? If it's safe to do so, you can share your experience by emailing [email protected].
Please include a contact number if you are willing to speak to a BBC journalist. You can also contact us in the following ways:
[contf] [contfnew]
[contfnewc] [contfnewc]