The man suspected of carrying out a series of bombings in Texas has died after blowing himself up in his car as police closed in on him.
.Austin Police chief Brian Manley said the 24-year-old white male – named by police sources as Mark Anthony Conditt – had been tracked down to a hotel in Round Rock, near the US state's capital.
Officers were waiting for tactical teams to arrive to arrest the suspect when his vehicle began to drive away, Mr Manley said.
Authorities followed the car, which ran into a ditch at the side of the road, and when a SWAT team approached the suspect detonated an explosive device.
One of the SWAT team members shot at the vehicle and a second officer was injured in the explosion.
Police said the suspect – who has not been formally identified – suffered "significant injuries" in the bomb blast.
He lived in Pflugerville, 25 miles outside Austin where four of the bombings took place, the city's mayor Victor Gonzales said.
Mr Manley said the motive behind the series of bombings, which killed two people and injured a number of others, was still unknown.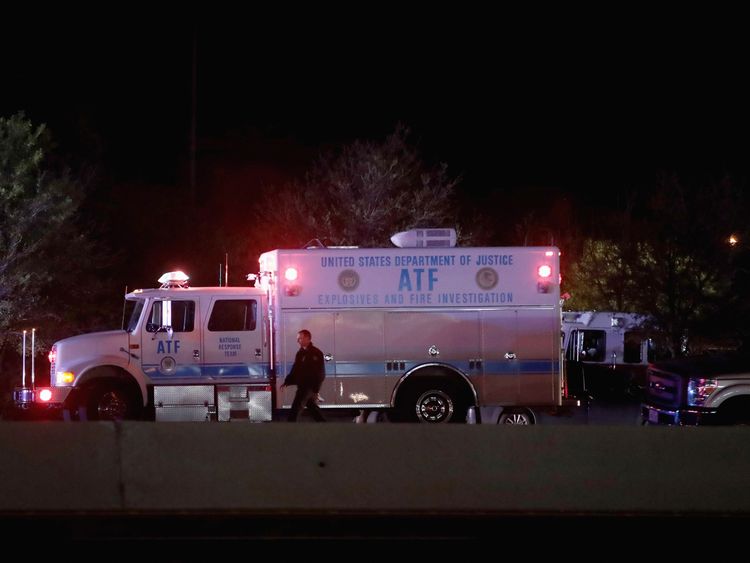 He also urged Texas residents to be "vigilant" for other possible explosives, adding: "We do not know where he has been in the past 24 hours."
FBI agent Chris Combs, head of the agency's San Antonio office, said, "We are concerned that there may be other packages that are still out there."
US president Donald Trump, who had earlier branded the Texas bomber a "sick individual", praised law enforcement officials.
AUSTIN BOMBING SUSPECT IS DEAD. Great job by law enforcement and all concerned!

— Donald J. Trump (@realDonaldTrump) March 21, 2018
Michael Luna, who was outside a nearby hotel in Round Rock, said he heard the explosion after seeing a large group of officers arrive at around 2am.
He told KXAN-TV: "I'm ex-military so it kind of sounded like two grenades went off at one time. After the bomb went off, I heard another pop after it."
The Bureau of Alcohol, Tobacco, Firearms and Explosives had earlier confirmed it was at the scene "of the individual suspected in the package bomb murders" on the I-35 highway.
The suspect was identified in the last 24 hours after shipping an explosive device from a FedEx store in the Texas capital, the Austin Statesman reported.
Authorities found store receipts showing suspicious transactions and obtained a search warrant for his Google search history which also showed suspicious behaviour, an official told the newspaper.
Police then used mobile phone technology to trace the suspect to the hotel, according to reports.
Earlier, CCTV images of a "person of interest" were shared on US media showing a white man with blond hair carrying packages at a FedEx store in Austin.
Two African-American men – Anthony Stephan House, 39, and Draylen Mason, 17, – have been killed and several other people hurt in a series of bombingsover the past two weeks.
Mr House died after a device exploded at his home in Austin in the first attack on 2 March.
Mr Mason was killed and his mother critically injured in a blast on 13 March after a package was left on his doorstep.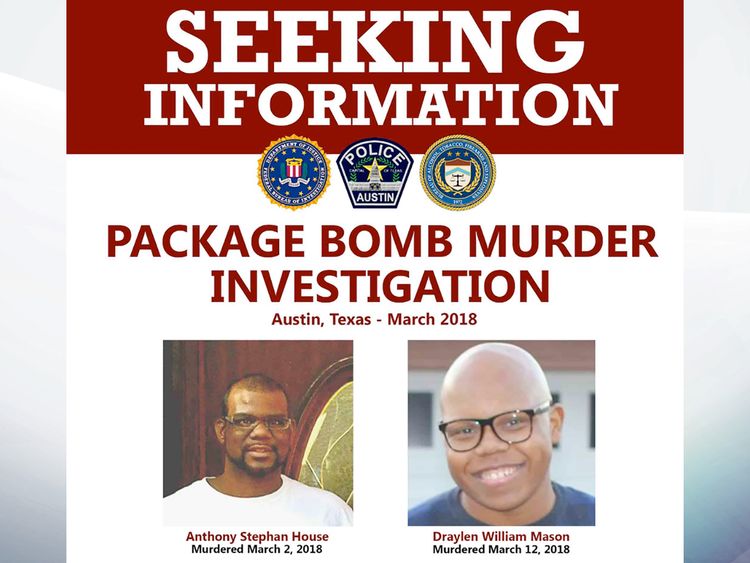 Hours later, a 75-year-old Hispanic woman was also critically injured after another package exploded in Austin.
On Sunday, two men, aged 22 and 23, were seriously hurt in an explosion involving a tripwire device.
In the early hours of Tuesday, a FedEx worker was hurt after a package bound for Austin containing nails and shrapnel blew up at a distribution centre in the San Antonio town of Schertz.
More from Texas
Later that day, another explosive package was intercepted before going off at a FedEx facility outside Austin airport.
Asixth explosion in Texas on Tuesday night was not linked to the previous incidents.
[contf] [contfnew]
[contfnewc] [contfnewc]